Remote Learning - Spring 2021
Remote Learning Plan
In unprecedented times there will be a need to adapt the curriculum over the coming year to the needs of the children and our community. Schools will be required to revert back to our full curriculum offer by Summer 2021 – this of course may change in the coming months. We would like to keep you informed about resources, remote learning opportunities and updates. We will be using various platforms to do this:
Text messaging

Emails – Parent's App

Remote Learning Platforms –See Saw, Class Dojo

The school Website

The school Twitter Account
As new resources become available, we will upload them onto the website or our Remote Learning platforms – your class teacher will inform you of the platform they will use and if necessary provide printed copies of the learning packs.
We must never lose sight that we are a Catholic School rooted in the Gospel Values placing Christ at the centre of all that it does: integrating Gospel values and the teachings of the Catholic Church into every aspect of learning, teaching and the totality of school life.
No matter what "Blessed are the poor in spirit, for theirs is the Kingdom of heaven"
Faithfulness and Integrity
"Blessed are those who mourn, for they shall be comforted"
Dignity and Compassion
"Blessed are the meek, for they shall inherit the earth"
Humility and Gentleness
"Blessed are those who hunger and thirst for righteousness,
for they shall be satisfied"
Truth and Justice
"Blessed are the merciful, for they shall obtain mercy"
Forgiveness and Mercy
"Blessed are the pure in heart, for they will see God"
Purity & Holiness
"Blessed are the peacemakers,
for they shall be called children of God"
Tolerance and Peace
"Blessed are those who are persecuted for righteousness' sake,
for theirs is the kingdom of heaven"
Service and Sacrifice
​
Gospel of St. Matthew, 5:3-10
The Department for Education have asked schools to prepare for all pupils to return full-time from the start of the autumn term, including those in nursery. They have set out their expectations but this will be reviewed and updated regularly.
Included in the guidance is the requirement for contingency planning for remote learning in case of self-isolation of multiple pupils or staff or local outbreaks.
There is a requirement for immediate remote learning should there be a local lockdown or should a bubble need to self-isolate due to an outbreak. To address this, all classes will plan for weekly remote learning which will be available on the "Outside the School gate" area of our website and on the Class page -alongside learning for class based activities. All resources will be available to be printed and distributed, if this is required, with links for off-site or on line learning available within 24 hours,
St. Gerard's will be adhering to the DFE guidance at all times and have the following contingency plans in place for remote learning should a child or bubble be unable to attend school because they are complying with clinical and/or public health advice. Teachers will keep using Dojo and Seesaw even when teaching in the classroom, so we can make sure all of our children and parents/carers can use it with ease.
Online Safety
Please take care when working online. Safeguarding your children is a priority at ST. Gerard's- including on line -as during remote learning children will be using on line technology independently. Therefore, please check these Top Ten Remote learning Safety Tips for parents, Children and Staff produced as guides from National Online Safety:
Who is the Remote learning for:
In line with government guidance, remote learning will be provided for children needing to self-isolate for the following reasons:
Pupils unable to attend school due to a period of advised self-isolation but who otherwise remain well

A pupil who is absent from school for 3 or more days for a pre-agreed reasons e.g.taking part in a sporting tournament

Pupil exclusion

An extended period of school closure
Remote Education expectations:
St.Gerard's would like to make it clear that the completion of work is not compulsory and that this document seeks to inform and guide families and not impose expectations. Each family is unique and because of this, should approach home learning in way which suits their own individual needs.
A range of resources to support schools in delivering remote education is available:
from that start of the autumn term, Oak National Academy and other third party education sites/partners will complement our learning with on line learning and video links – this includes SEND learning

.
Click on the image below for tips on creating a routine while at home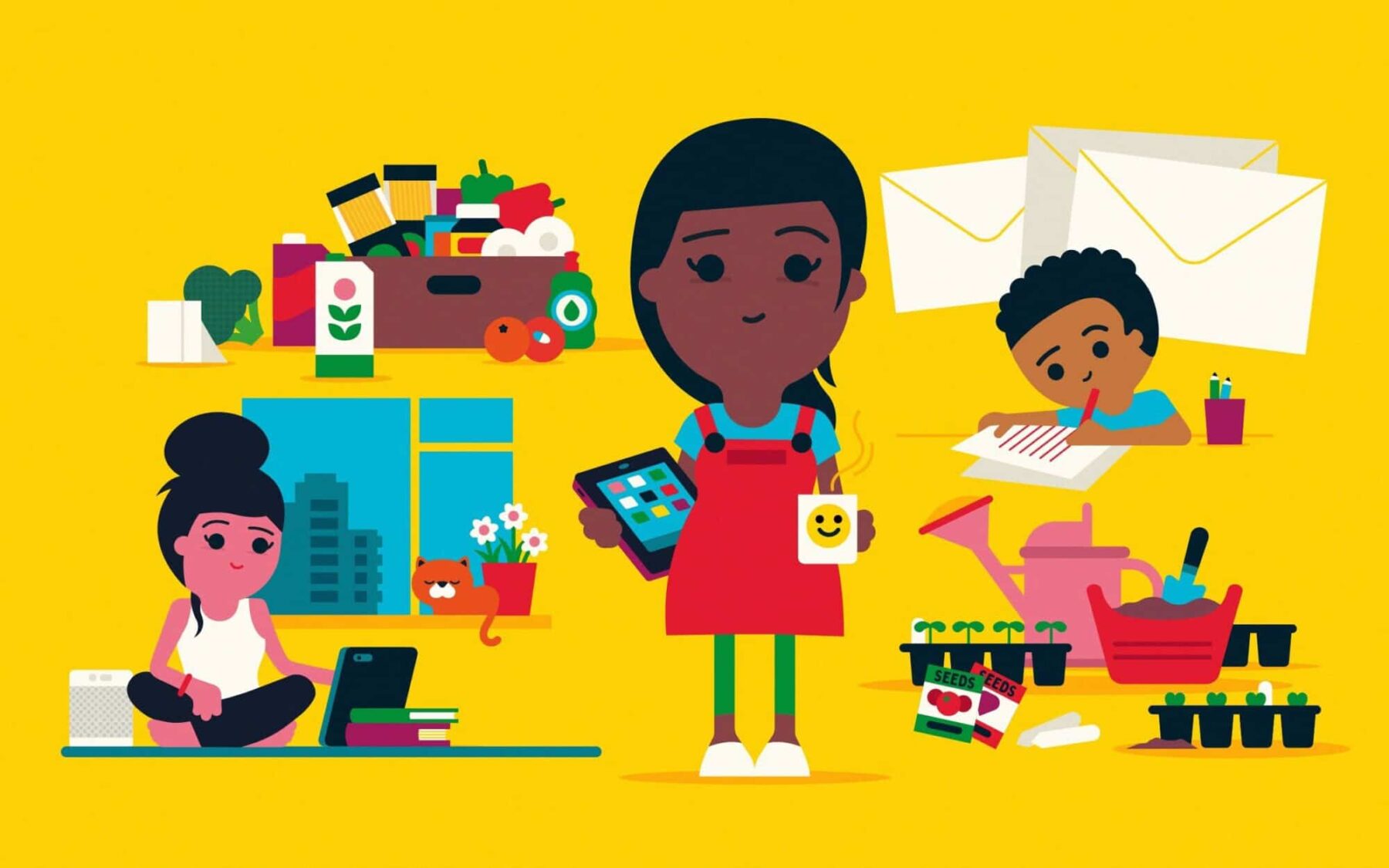 As parents and carers juggling learning at home along with your day to day work or routines, sometimes a child may struggle with the work and want to give up. Our teachers will be able to help with any questions about the learning through class Dojo or SeeSaw. However it is very difficult to watch our children become defeated and struggle with self-esteem, yet it is a common issue that we are all faced with at some point. When children get defeated, they often turn the feeling inward and start to question themselves and their abilities. Their frustrations can come out as anger or upset or avoiding the activity. It is essential for them to hear from people they trust in times like this, and our words become especially powerful. We can help our children realize how valuable they are based on who they are – their thoughts, ideas, internal strengths, and efforts. Try some of the positive meaningful phrases linked to the image below that will help your child develop a sense of confidence and empowerment. When you say it, mean it and make sure your actions show it.
In line with the Education Endowment Foundation you may find the following support documents helpful with top tips for Parents/carers supporting learning at home:
Blog: Four tips for a smooth home learning routine
7 Top Tips to Support Reading at Home
https://educationendowmentfoundation.org.uk/public/files/Publications/Covid-19_Resources/Resources_for_schools/7_Top_Tips_to_Support_Reading_at_Home.pdf
7 Top Tips to Support Key Stage 2 Children Reading at Home
https://educationendowmentfoundation.org.uk/public/files/Publications/Covid-19_Resources/Resources_for_schools/7_top_tips_to_support_reading_at_home_%E2%80%93_for_Key_Stage_2.pdf
HELPING HOME LEARNING Reading with TRUST
https://educationendowmentfoundation.org.uk/public/files/Publications/Covid-19_Resources/Resources_for_schools/Reading_with_TRUST_comic.pdf
HELPING HOME LEARNING Talk with TRUST
https://educationendowmentfoundation.org.uk/public/files/Publications/Covid-19_Resources/Resources_for_parents/Talk_with_TRUST_comic.pdf
Supporting home learning routines Planning the day
https://educationendowmentfoundation.org.uk/public/files/Publications/Covid-19_Resources/Resources_for_parents/Supporting_home_learning_routines_-_Planning_the_day.pdf
Supporting Videos: